Coming from the first Chinese family in Scotland, Gemma's childhood fit that of the overachiever stereotype most frequently associated with Asians – her talents included playing the piano and violin, dancing ballet and swimming competitively at a national level. After graduating from Oxford with a law degree, she then veered completely off-course from said stereotype, by forgoing a waiting training contract to enrol in Drama Centre London to pursue acting. It is safe to say Gemma has never looked back since.
Project Catwalk (2006)
Add modelling to Gemma's already diverse repertoire – the first time Gemma made it onto the big screen was actually as a competing model in the British adaptation of Project Runway. Originally just picking up modelling jobs to fund her acting lessons, she is evidently a natural at this, becoming one of the finalists in the debut season of Project Catwalk.
Secret Diary of a Call Girl (2011)
Gemma's first regular role in a TV series casts her as the arch-rival of protagonist Belle in the fourth season of Secret Diary of a Call Girl. The self-described naturally shy individual transforms into a disdainful and demanding dominatrix once cameras start rolling – the gulf between the two personalities more than demonstrates her versatility and persuasiveness as a fledgling actress.
Fresh Meat (2011)
Comedy is often a completely different ball game for many actors, but not Gemma. Probably leveraging on personal experience, she plays drama student Ruth in this comedy revolving around the collegiate woes of six university freshmen. In addition, she met her longstanding beau, comedian Jack Whitehall, on the set of Fresh Meat, who impressed her with a first date at Nando's.
Humans (2016)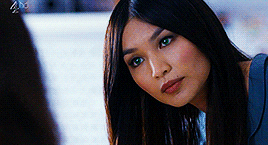 Ahh, the proverbial big break for every actor; Gemma's came in the form of Humans. Set in a present day alternate universe, busy families own subservient synths to help with their daily lives; Gemma plays Anita, a synth belonging to the Hawkins family. Describing her role as one of the most "counter-intuitive" she has faced as an actor, Gemma and her fellow cast members had to attend 'synth school' to replicate the robotic idiosyncrasies of their characters. With the show, especially the second season, receiving critical acclaim, it seems like Gemma's decisions to enrol in drama school and 'synth school' have paid off after all.
Catch Gemma working her charms on HUMANS, every Tuesday 20:00 BKK/JKT | 21:00 HK/SIN.